Heat 2016
The Association of Decentralised Energy, in partnership with the Energy Technologies Institute, brings you Heat 2016.
28th October 2016 by Networks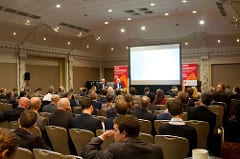 Heat accounts for almost one half of UK energy costs and the cost of heat continues to rise. Britain faces an urgent challenge in transforming how homes, offices and industry are heated; in its recent report Next Steps for UK Heat Policy, the Committee on Climate Change put it simply: "deployment of low carbon heat cannot wait until the 2030s".
The Association for Decentralised Energy (ADE) and the Energy Institute (EI) will place the challenge of heat centre stage at the 2016 Heat Conference, to be held in Central London on Wednesday 23 November.
Confirmed speakers include:
Baroness Neville-Rolfe, BEIS
Matthew Bell, Chief Executive, Committee on Climate Change
Martin Crouch, Senior Partner: Improving Regulation, Ofgem
Sue Daley, Head of Programme for Big Data, Cloud and Mobile, TechUK
Dan Osgood, Director for Heat and Business Energy, BEIS
Michael Pawlyn, Director, Exploration Architecture and noted TED speaker
Wilfred Petrie, Chief Executive Officer, Engie UK and Ireland
Laura Sandys, Founder, POWERful Women
Frauke Thies, Executive Director, Smart Energy Demand Coalition
Network is the official media partner of Heat 2016. Find out more about the event at www.heatconference.co.uk
---
Comments
Login on register to comment