Flying the line
Western Power Distribution (WPD) is the only network operator that has its own fleet of helicopters used to detect potential faults on the overhead electricity network. The unit is based at Bristol Airport and Network editor Alec Peachey was invited to take a look around.
4th January 2019 by Networks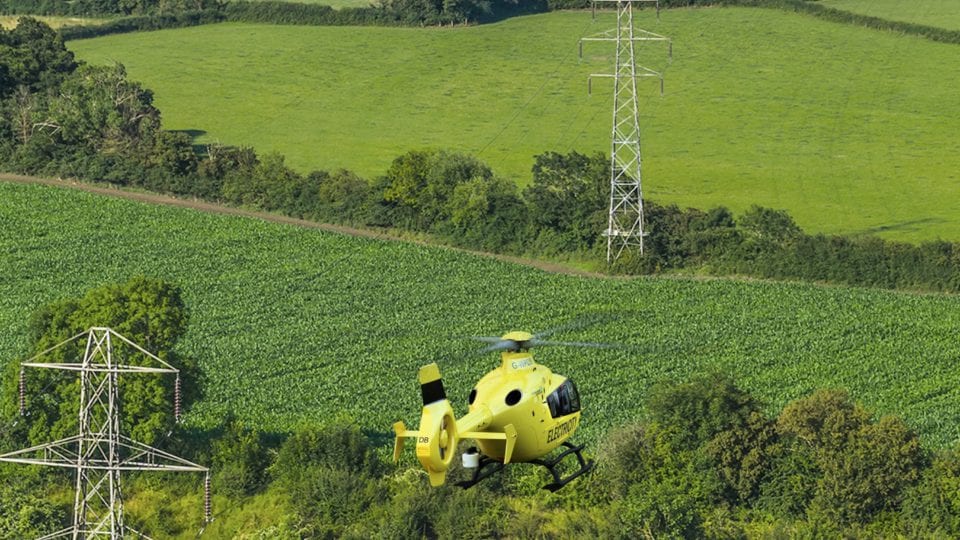 WPD has been operating helicopters as a company since SWEB (South West Electricity Board) used their first helicopter back in 1963.
It's a history that the company is clearly proud of as there are several photos on display that showcase the advancements in technology and different types of helicopters that have graced the Unit.
WPD currently has a fleet of five H135 helicopters which are used for more than line patrolling. This is a point that Robin Tutcher, WPD's Helicopter Unit manager, is keen to point out.
Tutcher, who is the Civil Aviation Authority (CAA) approved accountable manager, is clearly passionate about the Unit.
The machines are used effectively in construction, delivering poles and even heavier loads such as generators to inaccessible areas.
All WPD helicopters have external lift capability of up to 750kg, depending on fuel requirements. Work includes lifting and planting poles, lifting transformers and stringing conductors.
Tutcher said: "The helicopters are used for proactive and reactive patrols of WPD's overhead network. Additionally, they can also be utilised for underslung load work, moving people or equipment and high definition filming or photography."
Routine visual line patrol makes up 70 per cent of the Unit's work. The helicopter flies just above and to one side of the line. Trained observers, using OS maps with overlays showing power lines and installations, report on 55 kinds of defects and various location risks – ranging from deterioration to damage caused by storms. If the condition is urgent, details are immediately telephoned to WPD's electricity network control centre.
"Currently the defects are identified by an authorised overhead network inspector known as an observer but the Unit does have access to thermal cameras and other helicopter mounted equipment to assist with defect identification," comments Tutcher.
All routine work is plotted onto and stored in a computer system.
"The information is captured on a bespoke laptop platform which was designed by the observers and WPD's mapping department," remarked Tutcher. "Upon completion of a patrol the data captured is merged to the asset database and made available to Network Services. More urgent defects or safety concerns will be immediately forwarded to either of the control rooms and the local offices from the aircraft."
The unit is made up of 20 members of staff (observers, pilots, engineers) and a range of contract support staff.
When conducting thermal patrols a forward looking infra-red Kelvin 275 thermal camera is used with a digital video recorder to detect hot spot faults. Used mainly on the 132kV and 33/66kV systems, this technique can also show heat coming from buildings to measure how energy efficient they are.
The system also gives advance warning of potential faults, helping to improve fault records, and ensures that WPD have an effective preventative maintenance policy.
But what happens if something needs to be addressed quickly?
"The Unit has an incident desk which is manned throughout the day and then a standby system during out of hours," notes Tutcher. "This allows anyone within Network Services to call for assistance 24 hours a day, 365 days a year. During a normal working day with suitable weather conditions and the aircraft operating within the four licences anywhere on WPD's network can be accessed within 30 minutes. Out of hours or when responding from Bristol an aircraft can reach the furthest extend of WPD's network within one hour and 10 minutes."
WPD's helicopters will normally complete five hours of flying in a day which would accomplish approximately 60 to 100km of patrol depending on the type of network.
The aircraft are usually crewed with one observer and one pilot and cover 15-20km per hour on 11kV and up to 50km per hour on 132kV.
"This would allow an inspection of 99.9 per cent of all the assets, therefore when comparing to the more traditional means of inspection, the helicopter is very efficient," states Tutcher.
Helicopters are often used in emergencies and the Unit has a great deal of experience in adapting to all kinds of emergency conditions.
WPD's contribution has often been a major factor in restoring electricity supplies as quickly as possible. The Unit can also provide a quick response to requests for post-fault patrols. Reports are regularly available within three hours of a request for help.
Tutcher said: "The last significant snowfall (February) caused several issues both from an electrical point of view and humanitarian. The aircraft were used to move people around and to assist in identifying where there were fault causing defects."
Although the aerial inspection of network infrastructure usually involves the deployment of piloted helicopters, drones are now becoming an alternative for getting this job done.
Whilst Tutcher believes that drones do have a place he also recognises that they won't be replacing helicopters any time soon.
"Drones have some way to come from a legislative and technological perspective before being able to compare to manned aviation," he tells Network. "Currently we also operate a drone which is used for very detailed inspections of singular assets primarily from a safety perspective. If the use of a drone can prevent someone from having to climb then this is always seen as a safety benefit."
With technology improving all the time WPD continue to have one eye on the future with the use of LiDAR, hyperspectral imagery and data all set to play a role in the coming months and years. For now, Tutcher can't say much more, but he concludes by saying: "The range of work we undertake is changing and developing all the time. Helicopters are being used to assist with many different engineering projects both in WPD's own territory and beyond."
For now it seems, the only way is up.
---
Comments
Login on register to comment