Finding faults
Helicopters, thermal imaging cameras, artificial intelligence and the internet of things are among the latest weapons as the battle against power cuts rages into the modern era. Greg Pitcher finds out more.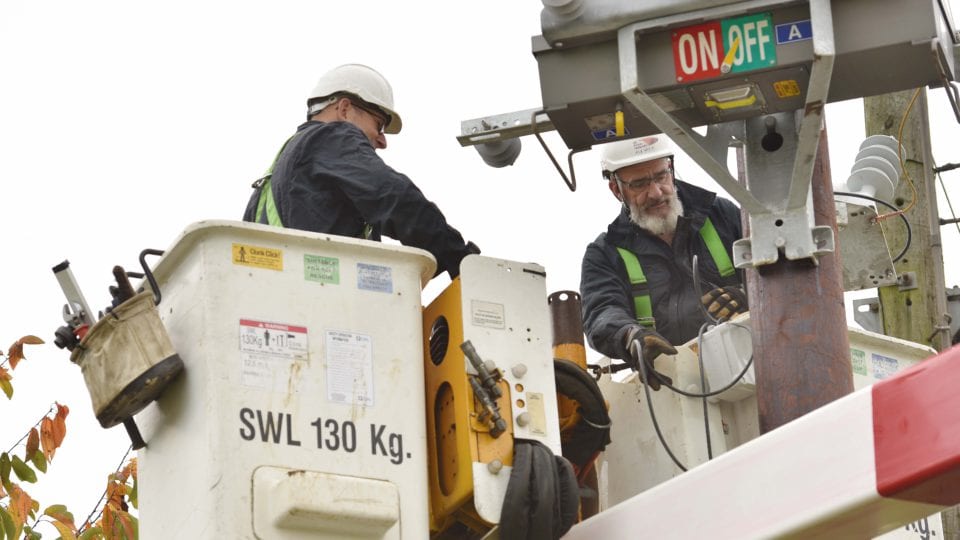 Ofgem figures show that the number of electricity interruptions was above 40 per 100 customers at 11 of the 14 network operators in 2016/17.
Depending on the operator, customer interruptions lasted on average between just under 20 minutes and almost an hour.
The regulator's Interruption Incentive Scheme sets targets for the volume and duration of power cuts and rewards or penalises network operators for exceeding or falling short of these targets.
As well as this, direct payments are required to customers for their inconvenience where network operators' performance falls short of standards set out for supply reliability. More than £1.8 million was paid out through this scheme in 2016/17.
And this is all aside from the direct cost of sending out engineers to deal with faults. In short, there is plenty of incentive for the operators to focus on keeping the lights on. Unfortunately it just isn't an easy task.
Steve White, head of network operations and control at UK Power Networks, says the company invests more than £500m in its electricity networks every year.
"Despite our best efforts to maintain and upgrade the electricity network, some faults can still happen," he says. "Overhead power lines can be touched by tree branches, or be damaged by third parties including traffic accidents and farmers using high machinery. Underground power cables can also be damaged by third parties accidentally digging through them."
UK Power Networks begins its efforts to prevent problems by producing local cable plans and e-maps to help workers and customers avoid its cables when digging. It also runs a public information campaign, titled Be Bright Stay Safe, which aims to remind people of the dangers of working too close to power lines.
The firm also listens out to customers, who often give the first signal of an electricity interruption when they call to register it.
"When people report a power cut, our engineers work by remote control from our control room, or by visiting site, to identify the cause and start repairs or re-route the power supply."
UK Power Networks took on 60 apprentices last year and runs its own training centres. It also invests in technology.
"We use high-tech planes using radar systems, and helicopters, to patrol overhead power line routes and identify where trees and vegetation is growing too close to the lines," says White.
"A key contributor to the reliability of our power networks is the Automatic Power Restoration System," he adds. "This innovation identifies and isolates the location of a fault and re-routes power on the network so that only a few customers are affected for more than a couple of minutes."
The operator has also invested in 65 thermal imaging cameras and uses 'cablesniffer' devices to hunt out fault locations. Its Fusesaver device helps isolate a fault on to a single spur of a complex rural network.
"Future proactive fault management is also heavily dependent on network visibility down to the low voltage network, so we have just approved a £30m project to invest in low voltage visibility to help mitigate load-related faults in future."
The low-voltage network
Finding exactly where a fault has occurred is a major challenge for the network operators.
Jonathan Rodgers, future networks manager at technology supplier Kelvatek, explains the problem.
"In terms of staff running about doing stuff, a large percentage of the work is on the low-voltage system," he says. "A high voltage fault gets attention because of the impact but there is 10 times more cable in the low-voltage network and it is not on poles, it's hidden underground, so it can't be inspected in the same way."
Rodgers says poorly formed resin or natural ground movement can cause power cuts even without the impact of a third party.
"Typically you will get water ingress into a damaged cable," he says. "Eventually you will get internal damage to the point where the 350amp-400amp fuse at the low voltage substation will blow to stop excessive damage to the cable. Twenty or 30 customers could be affected."
He says that historically the network operators, alerted by their customers, would send an engineer to work out which fuse had blown and replace it.
"That might restore power but it doesn't get to the heart of the problem," says Rodgers. "The heat from the fault can evaporate moisture from the cable, the power goes back on, but a few weeks later you get heavy rain and the power goes again. You get an intermittent fault."
A big issue, he says, is that although the operators can tell there is damage that needs repairing to stop the fault coming back, there is no easy way of knowing where that damage is.
The firm supplies an auto-recloser – which effectively switches the network off and on again in the event of a fault – enabled with the ability to communicate information on when it has operated and the results.
Data from auto-reclosers can be uploaded to the internet so users can log in and get a picture of network faults. Using information captured from device operations, the firm has developed location algorithms to work out how far from a substation a fault is likely to have occurred.
It also has a fault assistance centre that can send this location intelligence to operators and their engineers.
Scottish and Southern Electricity Networks uses a type of auto-recloser from Kelvatek known as a Bidoyng as the first step in locating network faults.
The technology solution recently won the Queen's Award for Enterprise.
"We get problems on the high voltage network but this is monitored from a control room, alarmed, it's visible and technology can pinpoint problems quite quickly," says performance manager Kevin Dennis.
"The low voltage network is not monitored in the same way and historically we have been reliant on customers notifying us."
He says that, without useful information on location, the firm was often only in a position to change a fuse and walk away.
"Things have changed since 2015 when new equipment emerged on the market," says Dennis. "The Bidoyngs are retrofit devices with two fuses – so there is a back-up fuse to restore power – and also we get information on the fault location. We replace the blown fuse and use other technology to repair the fault."
Providing a snapshot
SSEN receives a snapshot map marked where the fault is believed to be and a tolerance level stated of how accurate that location is.
Cable-sniffers are used on probes through precision holes in the pavement to confirm the location. The firm also invested more than £250,000 last year on hand-held thermal imaging cameras that look for hot-spots from a fault.
Technology is emerging from a variety of sources to aid fault detection. IT infrastructure monitoring firm Paessler is talking to power firms about the potential of sensors on the built environment to help maintain supplies.
Paessler systems engineer Simon Bell says the power network is becoming more heavily instrumented.
"Paessler is moving into the internet of things in a big way," he says. "We are getting useful intelligence from items such as switching gear or transformers that are not traditional IT stuff; we have the capabilities to retrieve that data to give power line engineers the same insight as IT engineers."
He says power network operators should be considering using open-protocol sensors on their physical assets to boost their usefulness.
"The more sensors are on physical devices, the more chance there is of picking up data to indicate problems on their way on the network."
Rodgers says detection technology will continue to evolve and adds that predicting and solving capacity issues could also help keep the lights on by preventing certain faults from occurring.
"Electric vehicles can cause problems with capacity on the low-voltage network," he says. "We are looking at machine learning and artificial intelligence techniques to see what more value we can release from the data we capture."
Understanding the nature of demand on the network can allow – for example – technology to physically connect supply areas to match demand.
"Commercial areas' electricity levels start to go to low levels from about 6pm when residential areas' get high. So we can connect them and effectively find them extra power."
---
Comments
Login on register to comment