Developing leaders for a low-carbon future
Tom Naughton, an associate at London based heat network consultancy FairHeat, describes its award-winning graduate training programme, and why similar schemes are vital to the sector's future.
13th November 2019 by Networks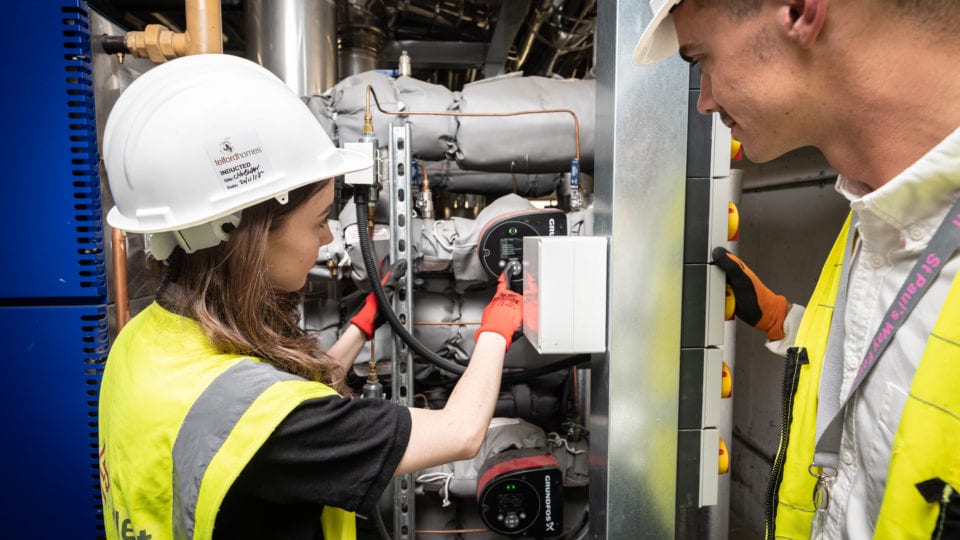 In June, the UK committed to achieving net zero carbon emissions by 2050. While the electricity sector has made huge steps towards this target and the electrification of transport is well underway, heat remains the stubborn thorn in the government's decarbonisation strategy. MPs on the House of Commons Science and Technology Select Committee recently stated that 15,000 homes will have to transfer to zero carbon heat every week until 2050 to reach this target.
The government has made it clear that heat networks will have a strong role to play in delivering the decarbonisation of heat in the future. Systems currently supply about 450,000 homes through 14,000 networks. By 2050, a fifth of UK households are expected to have made the switch to heat networks.
In keeping with this approach, planning regulations in most major cities in the UK, including London, now specify that all new developments must include a heat network as part of a push towards decarbonising heat. However, this rapid growth is not without its problems.
Investing in the future
The ever-increasing need to supply low-cost, low-carbon district heating has created a recruitment challenge. FairHeat was founded in central London in 2015, and we began recruiting in 2016. It quickly became apparent that there was a lack of existing heat network expertise. Despite the challenging economic climate, the firm decided early on that it would bring new blood into the industry, and train them to become industry leaders.
We have been able to expand the recruitment pool beyond the traditional building services and mechanical engineer route to also incorporate chemical engineering graduates

Tom Naughton, associate, FairHeat
We formed partnerships with universities, and specialist graduate recruiters, to offer solid knowledge and experience in all aspects of heat network development in a dedicated two-year graduate programme.
Continual development
The programme includes six-month rotations across our four business areas, covering all aspects of building and operating heat networks, from design and delivery to performance improvement and monitoring.
Graduates also develop a special project on each rotation. They manage their own time and budget, and present back to the wider FairHeat team on an area of business improvement. This enables them to demonstrate their knowledge and skills, while empowering them to generate ideas and solutions.
They undergo a technical competency review every six months and are provided with a bespoke personal development plan, which focuses on their skills and expertise.
After two years, graduates are promoted to become consultant engineers and are given a visible and structured progression route through the organisation.
A new profession
In addition to technical competency, the graduate trainees also gain additional qualifications, such as the PRINCE2 project management qualification, to help them develop as well-rounded engineers. Career progression is also linked to professional milestones, with senior engineers required to be chartered. To date, three members of our team have completed the scheme and are now lead engineers in the company. A further four are halfway through the process and three more began the journey in September.
We aim to ensure that the team is clear on the direction of travel for the organisation. It is crucial that everyone understands their individual roles and how they contribute to wider business objectives, and the opportunities to grow.
The graduate team is encouraged to engage in the development of the wider heat network industry in support of their professional development. This includes opportunities to be part of the CIBSE Young Engineers Performance Group. The training programme has also been given recognition with the CIBSE Small Employer of the Year Award 2019, after impressing the judges with our commitment to developing young leaders.
As a result of the programme, we have been able to expand the recruitment pool beyond the traditional building services and mechanical engineer route to also incorporate chemical engineering graduates. In particular, we have found that chemical engineers can hit the ground running and quickly understand the dynamic operation of heat networks. This has enabled them to develop rapidly and immediately transfer their degree education to real life heat network projects. Their unique skills, including in thermodynamics and process engineering, are key for heat network engineers.
Due to changes in the energy sector, traditional career paths for graduate engineers are changing, and many early career engineers are looking for employers that are directly addressing the climate emergency. Because of this, we found many engineers attracted to our ethos and vision of low-carbon heating. As a society, we have a huge challenge to decarbonise our economy over the next few decades. It has never been more important to develop young leaders.
---
Comments
Login on register to comment