Time to get motoring on EV infrastructure
SSEN's managing director Colin Nicol discusses the importance of a £7.5 million EV partnership between the Scottish Government, Transport Scotland, SSEN and SP Energy Networks.
30th August 2019 by Networks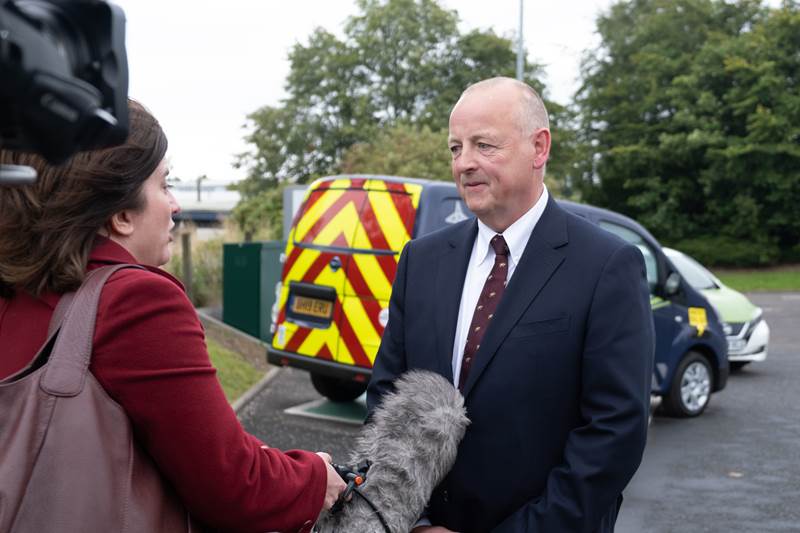 With the Scottish Government committing to phasing out the need for new petrol and diesel cars and vans by 2032, we all need to get motoring to get the infrastructure right.
To put it in context, that 2032 target might just be one or two new cars away for many motorists. When faced with making the choice on their next vehicle, they'll want to know there is easy to use, well-sited charging infrastructure to help keep them on the road.
Behind the scenes, electricity network companies have a lot of work to do to model how much additional electricity demand there will be from electric vehicles, where that demand will be and ensure the network is prepared for the changing way we'll all be using electricity in the future.
At the same time, suitable places will need to be identified for charging points and we'll need to get the electricity from the grid to those sites. Not to mention the exciting possibilities of a more flexible, two-way network which will see electric cars playing a part in keeping the lights on, in the biggest shake up of the distribution grid since it was designed.
A lot to do in just 13 years.
That's why the £7.5m strategic partnership announced today by the First Minister Nicola Sturgeon, between the Scottish Government, Transport Scotland, SSEN and SP Energy Networks is so important. It's an example of how Government and industry can work hand in hand to help ensure a smooth journey for EV users and our shared goal of a net zero economy.
SSEN will be supporting the first-of-its-kind Electric A9 project, ensuring the main artery north is EV ready. We'll also be piloting how we deal with the increased demand from EVs on the Scottish tourism trail, which sees the population of rural communities soar in the summer months.
With 10 million EVs expected on Britain's roads by 2030, including over one million in Scotland, we need to build the critical infrastructure now. We can't wait for motorists to be clamouring for electric pit stops.
Both the UK and Scottish Governments have been clear in their ambition and electricity network owners are aligned too. That's why we need Ofgem, the energy regulator, to put in place the right regime in the next price control, which acknowledges the need for efficient anticipatory investment.
Not to do so would be a missed opportunity to deliver efficiently and at pace and ensure no community is left behind in the low carbon transition.
We must learn lessons from the broadband roll out where the hard to reach and more expensive to build locations have been left in limbo waiting on critical infrastructure.
SSEN is ready, willing and able to take a proactive role in the delivery of electric vehicle charging infrastructure, particularly where it is clear that market solutions can't or won't work quick enough.
We're also taking our own action. As part of SSE, we've signed up to the EV100 commitment to decarbonise our transport fleet by 2030. In SSEN, we are starting this transition with a trial of six electric vans in our regions, making sure our teams are testing and trailing this new generation of vehicles in a real-world environment.
Tackling climate change unites us all, a net zero economy is the goal and upping the pace to decarbonise transport is vital. There's too much at stake not to get this right first time and this partnership is a blueprint for delivery.
---
Comments
Login on register to comment