Active network management triumph in Shetlands smart grid scheme
An £18 million smart grid trial on the Shetland Islands has been hailed as a success by Scottish and Southern Electricity Networks.
7th June 2017 by Networks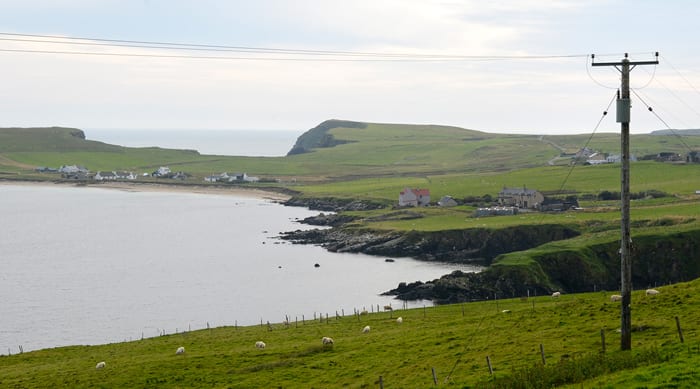 The network operator says its five year long Northern Isles New Energy Solutions (NINES) project has shown the ability of smart grids to operate reliably with high levels of renewable penetration.
The scheme tested the use of an active network management (ANM) system alongside domestic demand-side response (DSR) and utility-scale energy storage to enable the increased integration of renewables into power grids.
As part of the trial, a 1MW battery was installed at the diesel-fueled Lerwick Power Station and new smart storage heaters and hot water tanks were fitted into 234 homes around the islands with the help the Hjlatland Housing Association.
Five renewable generation schemes have now been integrated into the ANM system, including the 3.7MW Burradale wind farm. The last project was connected in March and its full impact on the system is only just beginning to be felt, according to Scottish and Southern Electricity Networks (SSEN).
The electricity network on the Shetland Islands is completely isolated from the national grid in the UK. SSEN says the NINES project has enabled renewables to meet up to 30 per cent of the islands' energy needs – a "significant increase" from beforehand – and that the percentage could rise even further. The scheme has also led to a 10 per cent reduction in the amount of diesel burnt at Lerwick Power Station.
"By creating flexible demand on the islands, through the use of smart technology and energy storage, we have made progress in exploiting and maximising Shetland's renewable generation potential and reducing the generated output from thermal power stations," said SSEN head of asset management and innovation Stewart Reid.
"This was an important achievement as it will inform the transition to a low carbon economy. It also offered us the opportunity to trial the technology in an environment which could then be applied to the wider-GB electricity network."
Reid said the scheme has additionally demonstrated the feasibility of fully integrating domestic properties and their appliances into an ANM system. "There is significant roll out potential in the UK with over 2.2 million homes currently using electrical heating systems, which could adopt similar technology," he added.
The project was largely funded through special conditions in SSEN's electricity distribution license although it also benefitted from grants of around £1 million from the Low Carbon Networks Fund and the now defunct Department of Energy and Climate Change.
The trial officially concluded on 31 December 2016 and a closedown report was submitted to Ofgem at the end of March. SSEN says a learning outcomes report will be published shortly.
---
Comments
Login on register to comment