Cadent diverts River Mersey to protect Manchester's gas supplies
A major project to re-route the River Mersey is being carried out by Cadent in an effort to protect a major gas feed into Manchester.
22nd August 2018 by Networks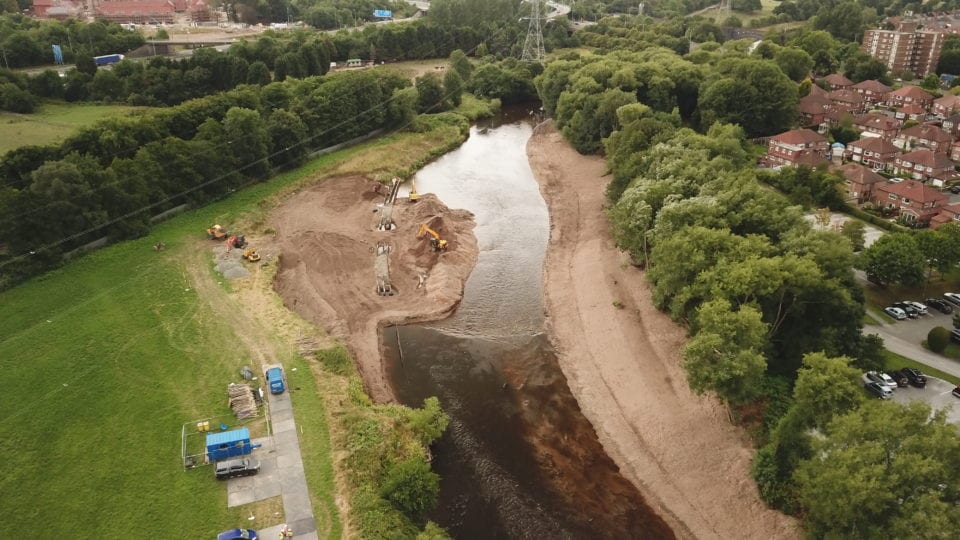 Work is nearing completion on the £1 million project to re-route the river at Didsbury, near Stockport, after erosion from the watercourse began to threaten one of the main gas feeds into Manchester.
Engineers are moving a 400 metre stretch of the river 40 metres (120 feet) back to its original 1960s channel. The work will safeguard a high pressure gas pipe that feeds around 250,000 homes and businesses in Manchester.
Cadent's Matthew Goode, who is heading up the project, explained: "This is unique for Cadent – it's the first time we've ever done a project of this type on this scale. It has been a major challenge but it's progressing really well and once it's complete we won't need to come back again.
"Our job is to keep the gas flowing to homes and businesses across the North West and when this gas pipe was laid in the 1960s, it was well away from the river. However, over the last 50 years, through a natural process of erosion, the river's course has changed. If we didn't take action, the river would erode the soil under the pipe and leave it unsupported, potentially damaging the pipe and jeopardising gas supplies."
The project has involved 18 months of meticulous planning and extensive liaison with the Environment Agency, local authorities, landowners and others. Construction began in June and is due to finish by the end of September.
Engineers have worked on both sides of the river, straightening and widening the channel and grading back the banks to provide a more effective flood plain. As the river is wider at one point, the work will include installing a 'riffle', like a speed bump, to slow the flow down.
Goode added: "We carefully planned the work to make sure that it wouldn't affect the river further up or down its course and we've used specialist contractors to carry out the work.
"Wildlife and ecology have been at the forefront of the project. We've ensured that wildlife, including salmon and sand martins, are not affected and we will be replanting the banks with willows and grasses."
---
Comments
Login on register to comment