Network operators help NGN get the gas back on
A number of network operators joined forces with Northern Gas Networks to help get the gas back on in Sildsen.
4th April 2018 by Networks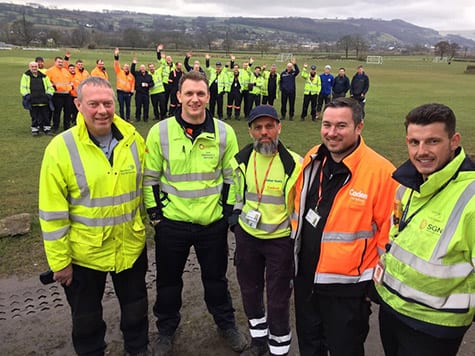 Staff from a variety of companies offered their help to the gas distribution company during the Easter weekend, after a third party damaged one of its gas mains in Silsden.
The damaged main left around 3,500 customers in the West Yorkshire town without gas, and it was a significant task for Northern Gas Networks to get supplies back up and running over the holiday weekend.
When Glenn Norman, SGN's director of operations (South), received the call asking for help, he immediately began to pull a workforce of volunteers together. He commented: "I got a call on Friday [30 March] asking for mutual aid support, alongside the other gas distribution networks. We were more than happy to help out and send our own engineers to support Northern Gas Networks in restoring supplies.
"We had a great response from volunteers willing to help and in total we sent 11 FCOs from Scotland and the south of England, as well as a team manager."
Darren Keighley, one of the gas emergency service managers who led a 27-strong Wales & West Utilities team to West Yorkshire said: "We know how essential gas supplies are so when NGN asked us for assistance we were happy to help. Engineers from right across our network – Wrexham to Redruth, travelled to Silsden to help out. It was great to be part of team, alongside colleagues from Cadent, NGN and SGN, working hard to get the gas flowing again.
"Interruptions to gas supplies can be disruptive, but we really appreciated the support from local people throughout our time in the area, and although we've dealt with this type of situation in the past, local people's patience and understanding has been second to none. For some this was our first trip to West Yorkshire – but we're looking forward to returning under better circumstances in the future!"
Mark Horsley, chief executive at Northern Gas Networks, added: "We would like to thank everyone involved over this Easter weekend for their fantastic support and patience. Thankfully incidents like this are extremely rare, however, when they do happen to have the support of the community that we saw in Silsden makes a huge difference. The way residents pulled together to help each other really shows the strength of spirit throughout Silsden.
"We would like to thank West Yorkshire Police, West Yorkshire Fire and Rescue Service, Bradford Council, Northern Powergrid, Wales & West Utilities, Cadent, SGN, local volunteers, St James Church, Silsden Town Hall and Library, Silsden Buzz, Silsden AFC, the British Red Cross, Norwood House Nursing home, the local community and everybody else who supported us in resolving the loss of supply as safely and quickly as possible."
---
Comments
Login on register to comment